Visual Communication Services (VCS) is staffed by multimedia creation specialists whose skills include video production, photography, graphic design, website development and desktop publishing.

The facility features television and photography studios and a conference room. VCS is located on the 5th floor of the Denton A. Cooley Building, Suite C530, adjacent to the Ansary Atrium and across from the Library and Learning Resource Center.

Services

Computer Graphics
PowerPoint presentations, poster production, graphics for publication, scanning, file conversion

Multimedia
Video and audio post-production, duplication, file conversion, web authoring

Photography
Digital imaging and printing, medical photography, studio portraits, location and stock photography

Publications
Brochures, certificates, flyers, invitations, newsletters, print ads, and signage

Videography
Studio, clinical and research videography; dubbing, editing

Location: Suite C530 (Green Elevators)
Location information.

Phone: 832-355-9558
Fax: 832-355-9511

Hours: 7:00 am - 5:30 pm
Monday through Friday

Staff

Ramon Bernal 
Program Designer/
Multimedia Specialist

Joe Brewton
Program Designer/
Multimedia Specialist
 
James Philpot
Visual Graphics Specialist

Heather Pierson
Production Assistant


Documents available for download
VCS Work Order Form (MS Word doc)
Please use this form to place a work order with VCS
THI Template (Microsoft PowerPoint slide master)
Using the THI Template  (Standard.pot)
Instructions for using the THI template in PowerPoint.
How to Prepare Digital Images for Publication

Tips for Creating Effective Slide Presentations
Guidelines for Poster Production
Images
THI Flickr page: photos of special events


Images for PowerPoint (jpeg files) 
Aerial view of TMC featuring SLEH and THI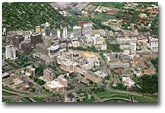 Instructions to download the photos:
Click the links above or the small images. When the pictures appear in your browser, right-click on the image and select "save picture as..."
PowerPoint presentations
Aerial views of TMC, SLEH and THI (4.85 MB)

DAC building tour (1.45 MB)
Instructions to download PowerPoint:
Click the link above or the small image and select "save this file to disk".