Dr. Doris Taylor Honored by Peers for Leadership in Regenerative Medicine

Dr. Doris Taylor, Texas Heart Institute's Regenerative Medicine Laboratories Director, was honored at the 14th International Symposium on Stem Cell Therapy and Cardiovascular Innovations in Madrid, Spain, this month, receiving the 4th Madrid Award for Excellence in Basic and Preclinical Cardiovascular Regenerative Research. The award – which was voted on by her peers – recognizes Dr. Taylor for her leadership and success in critical research that is paving the way for cell therapy clinical trials that could significantly impact how we treat chronic cardiovascular conditions and heart failure in the near future.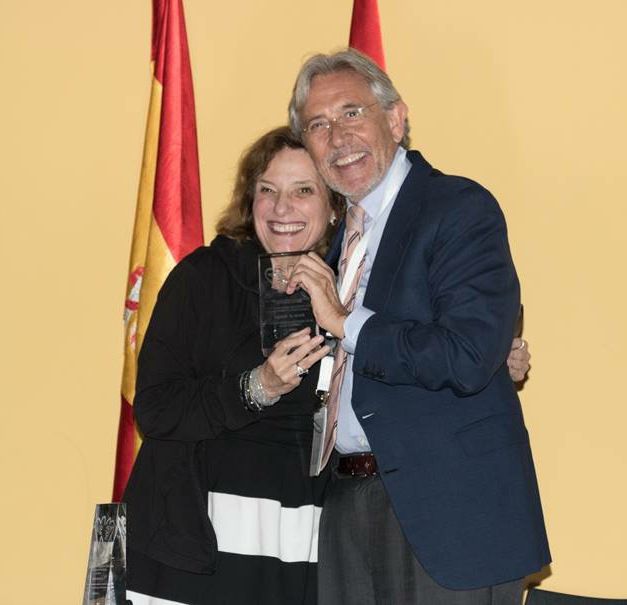 Dr. Taylor with Dr. Fernández Avilés  at 14th International Symposium on Stem Cell Therapy & Cardiovascular Innovations in Madrid, Spain June 2017 
In 2008, Dr. Taylor achieved international recognition for her work in the field of regenerative medicine, then in its infancy stage. Since then, her work has continued to receive global acknowledgement for breakthroughs related to cell therapy, stem cell biology and tissue engineering-based therapies. Dr. Taylor's recent work has uncovered differences in the underlying framework of male and female hearts and other vital organs, and may hold the key to the success of cell therapy.

Dr. Taylor is a leader in the worldwide effort to harness reparative cells that lie within our own bodies to treat and cure conditions and chronic diseases that cause immense human suffering around the world. Regenerative therapies are undoubtedly the greatest future hope in the battle against chronic diseases, such as cardiovascular failure, and the urgent need to address this challenge within an international framework of excellence is critical to moving these promising therapies into standard practice. 
Through partnerships and collaborations fostered by conferences like the International Symposium in Madrid and the upcoming
Texas Heart Institute International Symposium on CV Regenerative Medicine
, Dr. Taylor and leaders around the world
are able to push the bounds of discovery in the field of regenerative medicine, establishing ways to advance both basic
science and translational research to find new and improved
methods to cure cardiovascular disease.