Texas Heart Institute's (THI) commitment to education sets it apart from other major cardiovascular centers. The Institute's educational activities include postdoctoral and allied training programs, seminars, symposia, scientific publications and public education outreach. Visitors will find the 
Wallace D. Wilson Museum
 with educational displays, historic items covering scientific breakthroughs in treating heart disease, and the Celebration of Hearts art collection.
Reaching Out
and
Sharing Knowledge
Website
 (
texasheart.org
) offers news, research updates, physician training and educational opportunities, and public education resources. Over 7 million unique visitors accessed the content on our website in 2016.
Heart Information Center
 (
texasheart.org/HIC
) offers topical information on general heart health as well as detailed information on topics related to the prevention, diagnosis and treatment of cardiovascular disease. All topics are available in both English and Spanish and are continually reviewed and updated for currency and accuracy. In 2016 our HIC resources had more than 8.8 million unique pageviews.
Project Heart - Activities for the Classroom
 (
texasheart.org/projectheart)
 is a web-based heart-smart resource for teachers, parents, and students, extending outreach to the virtual classroom. With complete lesson plans for grades K through 6 at its core, the site provides educators with activities for teaching heart anatomy, good nutrition, and a healthy lifestyle. Materials comply with Texas Essential Knowledge and Skills criteria.
Proyecto Corazón
 extends all of the resources of the site to the Spanish-speaking population. The Project Heart Endowment (established by a grant from the
Albert and Margaret Alkek Foundation
) provided funds for the Project Heart translation and other expansions of the website.
Improving the Skills of Heart Specialists
Residencies and Fellowships at Texas Heart Institute
 (
texasheart.org/education
)
provide training and certification to heart specialists who participate in our research, educational and improved patient care activities. Since 1962 these programs have trained over 4,000 heart specialists from the US and around the world.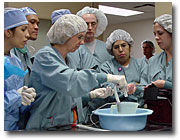 Advanced Training Courses
 allow medical teams to learn new techniques and technologies, especially those involving new heart assist devices. Each year, dozens of training sessions are provided at Texas Heart Institute and around the world, as Texas Heart Institute professionals lecture and provide on-site instruction. 
Continuing Medical Education
 (
texasheart.org/cme
) provides programs designed to keep physicians informed of the latest advances in the prevention and treatment of heart disease. The CME Department sponsors live symposia on topics such as cardiovascular intervention, arrhythmias, heart failure, heart defects, and surgery. Many of these symposia are held in conjunction with major national cardiovascular meetings. Medical professionals can subscribe to 
CME-news
 to learn of upcoming CME events.
Texas Heart Institute Journal 
(
texasheart.org/journal
) has a readership of cardiovascular physicians worldwide and online submission of manuscripts.
Department of Scientific Publications
 (
texasheart.org/scipub
) edits hundreds of manuscripts by THI physicians and scientists for publication in books or professional journals every year. At any given time, more than 150 manuscripts are undergoing the editing process.
Library and Learning Resource Center
(
texasheart.org/library
) provides study space, access to the latest publications and classes teaching healthcare professionals/researchers to use new technologies to access rapidly evolving information about cardiovascular disease. The L&LRC also sends an
e-newsletter
with helpful information about using online resources.
Visual Communication Services (
texasheart.org/vcs
) is staffed by multimedia creation specialists whose skills include video production, photography, graphic design, website development and desktop publishing in support of the research and educational activities of our physician/scientists.