CHI St. Luke's Health - Baylor St. Luke's Medical Center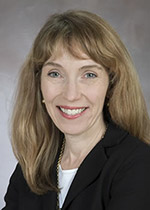 Deborah Ellen Meyers, MD, FRACP, FACC
Medical Director, Heart Failure Programs,
Texas Heart Institute and CHI St. Luke's Health - Baylor St. Luke's Medical Center
    
Dr. Deborah Meyers joined the Texas Heart Institute and Baylor St. Luke's Medical Center in June 2012. Dr. Meyers is board certified in general cardiology and in advanced heart failure and transplantation.
Prior to training in Medicine, Dr. Meyers studied Fine Art & Photography and worked in the area of health care communication. In the course of her work in this area she developed a keen interest in systems of health care delivery and has an interest in overcoming the many obstacles that confront patients when they seek help for chronic and complex health conditions.
Dr. Meyers graduated with honors from the University of California, San Francisco School of Medicine and stayed on to do her internship and junior year of Residency. She completed her Senior Residency year and her Cardiology Fellowship at Barnes-Jewish Hospital at Washington University in St. Louis. She then completed her Heart Failure & Transplant Fellowship at the University of Queensland in Brisbane Australia.
After completing her training, Dr. Meyers became the Director of the Queensland Heart Failure and Transplant Program in Brisbane Australia. She started the Queensland Mechanical Circulatory Support program in 2005. She also started and directed the Queensland "Hospital to Home" Program which is a currently ongoing statewide program aimed at delivering specialized CHF care to remote areas in Australia.
She moved to Houston, Texas in 2008 with her physician-scientist husband and her two boys, and set up a busy multi-disciplinary CHF service that focuses on "patient centered" chronic disease management with an emphasis on patient support and education at the University of Texas Houston. She directed this program until moving to the Texas Heart Institute. She also directed the cardiology clinical trials unit and the faculty mentoring program during her tenure at University of Texas.
Dr Meyers has a range of research interests that include system of care delivery models, patient centered practice models, medical decision making, the role of palliative services in heart failure, physical activity, chronic disease management and the relationship of exercise and sleep disordered breathing in heart failure patients. 
Dr. Meyers is a member of Alpha Omega Alpha Honor Medical Society, Heart Failure Society of America, International Society for Heart and Lung Transplantation, and she is a Fellow of the American College of Cardiology and the Fellowship of the Royal Australasian College of Physicians.
She has published and spoken professionally in both national and international forums.
CONTACT DR. MEYERS
HEART FAILURE PROGRAM 832-355-3961
Located at the Heart and Lung Treatment and Transplant Center
Baylor St. Luke's Medical Center
LVAD PROGRAM 832-355-2285, toll free at 877-685-0361
HEART TRANSPLANT PROGRAM 832-355-2285, International: 832-355-3350
PATIENT RESOURCES AT BAYLOR ST. LUKE'S MEDICAL CENTER 
PATIENT CENTER
Admissions, insurance information, directions, billing questions, and other pateint services.
HEART AND CARDIOVASCULAR PATIENT CARE SERVICES 
FIND A DOCTOR  or call 832-355-DOCS (3627)
EMERGENCY ROOM LOCATOR 
If you are experiencing chest pain or what feels like a life threatening emergency, call 911 now.
INTERNATIONAL PATIENT CENTER
Everything from travel assistance to comprehensive patient care. Phone 832-355-3350, Fax 832-355-3002, e-mail.
EDUCATIONAL RESOURCES at our Heart Information Center. Ask a Texas Heart Institute Doctor and more than 170 heart-health topics.