Program Information
The Texas Heart Institute (THI) School of Perfusion Technology offers a post-baccalaureate certificate in perfusion technology. The 12-month course trains students to use the cardiopulmonary bypass machine and other equipment associated with open heart surgery. In addition, students receive extensive instruction in cardiopulmonary function and extensive experience in the operating room. The Texas Heart Institute School of Perfusion is accredited by the Commission on Accreditation of Allied Health Education Programs (CAAHEP) upon the recommendation of the Accreditation Committee for Perfusion Education (ACPE), and graduates are eligible to become a Certified Clinical Perfusionist after they take the national certification examination, which is given by the American Board of Cardiovascular Perfusion.
Perfusion Licensure: Prospective applicants for the Texas Heart School of Perfusion Technology should consult the licensing boards for states in which they may apply for licensure prior to attendance and are responsible for confirming the Texas Heart Institute program meets perfusion licensing requirements for that state.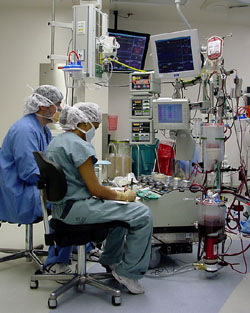 Design of Program
Academic courses and clinical rotations are held concurrently. Lectures are taught by St. Luke's staff perfusionists, THI staff, and various guest lecturers. Scheduled lectures and exams are subject to change based on the needs of the surgical schedule of the hospital. Lectures can be scheduled Monday through Friday during the morning or afternoon. Clinical courses require students to be present evenings, nights, weekend and holidays. Students are also required to take call in week long segments multiple times during the year.

Students spend more than 60 hours per week at the hospital between academic classes and clinical rotations. Classes and exams may begin as early as 6:00am and a student might be at the hospital until 9pm or longer for clinical procedures. 
Application Process
New classes begin every 6 months in January and July. The application deadline is 3 months before the class begins. The application deadline is October 1st for classes starting in January and April 1st for classes starting in July. Please note that ALL application materials must be received by the deadline or we will not be able to consider the application for that cycle. Please allow adequate time for your materials to be delivered. 
All applicants who apply and meet the minimum requirements (see below) will be invited for an interview. For each class, we are able to accept a maximum of 8 students.  
Application Components
Application: The application has been created so that you may type directly onto the PDF form from your Internet Browser and save your progress. You may submit your application via postal mail or email. 
Application Fee: The application fee is $150 and may be paid via check or money order. This must be sent via postal mail. 
Photo: We required a passport-sized photo (2 inch by 2 inch) for identification purposes. This must be sent in via postal mail. These photos can be easily obtained at Walgreens, CVS, and other many other locations that offer photo printing. 
Transcripts: We accept both tradition and secure official electronic transcripts. Traditional transcripts must be sent directly from the college/university to us in an official sealed envelope. 
Letters of Reference: May be accepted via email as PDF attachments directly from the source to the school. Letters of reference sent via postal mail or email must include the Reference Request Form included with the application packet. If your referrer does not have the capability to scan and send their letter of reference and reference request form, please ask them to send it in via postal mail. You may choose to provide your referrer with a postage paid envelope that has already been address to the school for their convenience. 
Download a copy of the application packet (PDF - revised April 2015) here. 
Requirements
Applicants must have a baccalaureate degree from an accredited college or university. The degree must be awarded and visible on an applicant's transcript at the time of application. An applicant must have achieved a minimum cumulative grade-point average of 2.75 on a 4.0 scale. To calculate a cumulative GPA, all hours attempted and points awarded are used with the exception of those course from which a student has officially withdrawn. Some universities exclude the points and or hours from courses that have been repeated, these courses are re-included when calculating cumulative GPA. The total number of points awarded is divided by the total number of hours.

The following courses are required and must be completed with a letter grade of C or better: 
8 hours (or 2 classes) - Chemistry (with lab) 

8 hours (or 2 classes) - Biology (with lab) 

6 hours (or 2 classes) - Human Anatomy and Physiology 

3 hours (or 1 class) - Physics 

3 hours (or 1 class) - College Algebra (or higher level math) 

3 hours (or 1 class) - Statistics 
Applicants must complete the Prerequisite Memo (included in Application packet) to summarize courses taken. All courses must be complete at the time of application. 
It is HIGHLY RECOMMENDED that applicants observe as many clinical cases with a Certified Clinical Perfusionist as possible. A log to document an applicant's' observation is included in the application packet.  

Official transcripts must be submitted for all schools attended.

All students must be United States citizens and be able to provide proof of citizenship with their application. Proof of Citizenship can be in the form of a color copy of a birth certificate or a color copy of a valid US Passport. Permanent Residents and/or Green Card Holders are not eligible for our program.  
Tuition and Fees
Tuition is $25,000 per year, payable in 4 installments. The first installment of $6,250 is due at the time of registration with subsequent payments of $6,250 at specific times during the year. In additions, students will need approximately $25,000 - $30,000 to cover living expenses for the year. The nature of our program makes it impossible for students to have jobs while in the program. 
As we are a private program and not a part of a university or college, federal financial aid is not available. This includes most student loans, grants, scholarships, funds from the G.I. bill, and any other kind of assistance that would typically be available. We would be happy to accept these funds, but they are only available to college and universities.   
Texas Heart Institute is happy to partner with
Meritize Financial
to offer student loans that are customized based on individual student performance. Students are able to finance the amount of tuition only. For more information, please visit
www.meritize.com
Outcomes
The graduates from the Classes of 2012 - 2015 had 100% job placement within 6 months of graduation.
Source: AC-PE Graduation Survey
The pass rate for first time test takers in Classes of 2012 - 2015 on the Basic Science Examination was 100%.
Source: ABCP Perfusion Examination Results
The pass rate for first time test takers in Classes of 2012 - 2015 on the Clinical Application Examination was 100%.
Source: ABCP Perfusion Examination Results

Frequently Asked Questions
Can I observe cases or shadow a Perfusionist at your institution? We are unable to offer observational or shadowing opportunities as we have two overlapping classes totaling 16 students at a time. Our staff is focused on our students and is not available to assist applicants. We recommend contacting local Perfusionists in your area via social media sites like Linked-In and inquiring about possible opportunities.  
I am currently enrolled in courses to complete my prerequisites/degree, Can I apply with classes in progress? All courses must be complete and a Bachelor's degree must be awarded at the time of application. If your courses or degree will not be completed by the application deadline, you would need to wait until the following application cycle to apply.

How close must I live to Texas Heart Institute? We suggest students live within 15 minutes of the hospital because of emergency call responsibilities and long clinical days which limit study time. See Location for directions to THI and information about Houston and the Texas Medical Center. 
What is "Call"? Hospitals require staff for night, weekend, and holiday emergencies and we must respond in a timely manner. 
Do students get time off during the year? This is a working clinical program and students are approved to have 5 days off during the year. We recommend these 5 days be reserved for employment interviews. 
What are the job opportunities after graduation? We do not guarantee jobs, but available jobs are posted as they become available during the year. Perfusion students must be willing to relocate after graduation. 
Do graduates receive a certificate or license? Some states require a license and new graduates are given a provisional license for a limited time until they pass the Basic Science and Clinical Application parts of the American Board of Cardiovascular Perfusion exams. 
What is the expected salary after graduation? Salaries vary depending upon your educational background, work experience, location of the country, and job responsibilities. Positions can be in hospitals, physician groups, or contract perfusion organizations. 
Can foreign graduates apply? Students must have U.S. citizenship at the time of application. If an applicant is a US citizen who attended a school in a foreign country, evaluations of original transcripts from World Education Services (www.wes.org) must be provided. 
How many applicants are there and how many get accepted? There are typically between 50 and 60 applicants per application cycle and we are able to accept approximately 8 students for each class. 
What is the parking situation? Transportation costs are the responsibility of the student. There are parking garages nearby, and outlying parking lots with shuttle bus access to the Medical Center. Metro buses and MetroRail provide access to Medical Center locations. See location for maps and parking information. 
Contact Information
To obtain an application, download the packet (PDF - revised April 2015) or contact:
Texas Heart Institute
School of Perfusion Technology
Attention: David Zamora
MC 1-224
PO Box 20345
Houston, Texas 77225
www.texasheart.org/perfusion 
Phone: 832-355-4026  
E-mail: Perfusion Technology