About
Throughout the world, heart and vascular disease are the #1 killers of men, women and children. Over the last 30 years, more women than men have died each year of heart disease, and the gap between the survival of men and women continues to widen.
Experts estimate that one in three women will die of heart disease or stroke, compared with one in 31 women who will die of breast cancer. According to the Centers for Disease Control, this translates to about 40,000 women dying of breast cancer in the U.S. each year vs. 10 times that number dying of heart disease. Yet, in a recent survey, scientists interviewed women living in America age 25 to 60 years old and only half of them knew that heart disease was the leading threat to women's lives.
Texas Heart Institute's Center for Women's Heart & Vascular Health was created to help educate women about their true risks and to encourage them to take ownership of their cardiovascular health by living a heart-healthy lifestyle. Our Center is committed to working with women locally in Houston - sometimes one woman at a time through community events, support groups, and screenings and cardiovascular consultations - as well as with women around the world to provide access to current and comprehensive educational materials, online assessment tools and health news. 
Resources
♥ Houston HeartReach Health Screenings
Offered through local community centers, employer health fairs and doctor offices, Houston HeartReach screenings provide individuals the opportunity to learn more about their health. Learn more about our women's healthy heart screenings.
♥ Know Your Numbers
Downloadable worksheet that explains blood pressure, cholesterol, blood sugar and other important measurements for your records that you can share with your doctor.
♥ Straight Talk with Dr. Stephanie
e-Newsletter written by Dr. Stephanie Coulter that demystifies over 40 women's heart issues. Available in English and Spanish, each issue includes succinct messages that address current topics related to women and heart disease, aiming to separate fact from fiction. All newsletters can be shared with friends, family and co-workers to help raise awareness about women's heart health. En espanol.
♥ Heart Health Information
THI's Heart Information Center provides an overview of over 100 heart conditions; information about diagnostic tests, procedures and medicines for cardiovascular disease; a glossary of terms; answers to frequently asked questions; and so much more. Pages are provided in English and Spanish.
♥ Women's Stories from the Heart
Nearly 600,000 women in Texas, and 43 million in America, are living with some form of cardiovascular disease. Listen and watch stories from some of the inspirational women who are committed to surviving for their families and loved ones, and educating others in the community to bring awareness to women's heart health.
♥ Community Ambassadors
THI's WomenHeart Champions are dedicated to increasing awareness about heart disease in women on the local, regional and national stage. Learn more about these women, their heart journeys, and how they can work with you and your organizations to distribute heart health information
♥ Women's Support Groups
WomenHeart Houston is a support group that provides peer-to-peer patient support and education for women living with heart disease. Learn more about this program and how you can get involved.
♥ Speakers Bureau
Our physician-scientists are available to speak with your group about recognizing and preventing the nation's #1 killer of women: cardiovascular disease. 
♥ Advisory Council
The Advisory Council to THI's Center for Women's Heart & Vascular Health provides guidance for our outreach programs and research, and also helps to broaden community support for our work.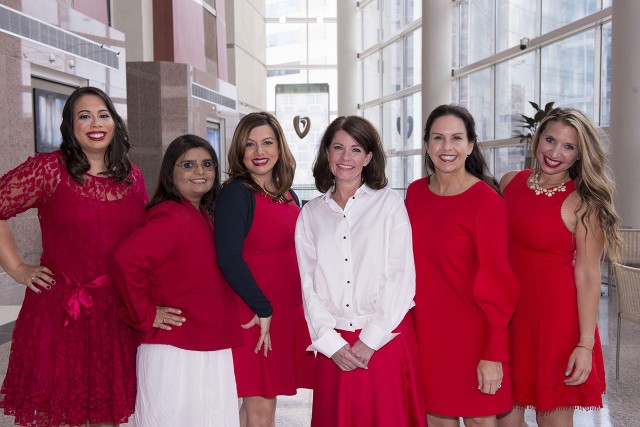 To learn more about women-focused research and clinical trials at Texas Heart Institute, visit our Center for Women's Heart & Vascular Health Research department page. To learn about the Center's Director, Dr. Stephanie Coulter, visit her biography page.