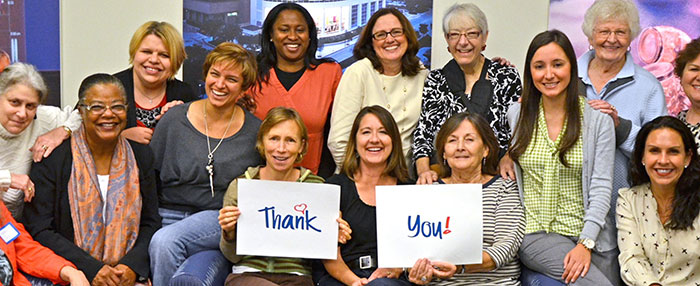 WomenHeart Houston Group Meetings
The national coalition, WomenHeart, has found that through its peer-led networks, women are better able to make well-informed decisions about their health and care based upon the educational programming and emotional support these networks provide. Join us at an upcoming WomenHeart Houston group meeting to learn more. 
Meetings are typically held on the same day every month. Some special events may be held offsite. Be sure to check the website for the latest information!
2017 Meetings
Second Wednesday of the month
11:30 a.m. - 1:30 p.m.
January 10
February 14
March 14 
April 11 
Directions: Texas Heart Institute is located in the Denton A. Cooley Building which is adjacent to CHI St. Luke's Health - Baylor St. Luke's Medical Center at the Texas Medical Center (TMC), near the intersection of Fannin St. and Holcombe Blvd. The entrance to the Cooley Building is only through the Baylor St. Luke's Medical Center Bates Street lobby*. The Maley Conference Room is located on the fifth floor of the Cooley Building accessible by the Green Elevators (C505). 
*Lobby Entrance Address (GPS): 1101 Bates Street, Houston, Texas 77030
 
THI's Women's Center Latina Support Group Meetings
Texas Heart Institute te invita a unirte a nuestro grupo de apoyo en español. Ven y comparte las inquietudes con mujeres como tú.  Aprovechemos la oportunidad para conocer más sobre enfermedad del corazón cómo prevenirla y cómo mantener una vida saludable.

2017 Reuniones
El segundo miércoles de cada mes
11:30 a.m. – 1:30 p.m.

10 de enero
14 de febrero
14 de marzo
11 de abril

Ubicación: Texas Heart Institute 6770 Bertner Ave, Houston, TX 77030 Maley Conference Room C505, Elevadores Verdes, Quinto Piso

Direcciones: Instituto del Corazón de Texas - el edificio Denton A. Cooley se encuentra junto al CHI St. Luke's Health - Centro Médico Baylor St. Luke en el Centro Médico de Texas (TMC), cerca de la intersección de Fannin Street y Holcombe Boulevard. La entrada al edificio de Cooley es solamente a través del centro médico Baylor St. Luke's Bates Street lobby *. La Sala de Conferencias Maley está ubicada en el quinto piso del Edificio Cooley accesible por los Elevadores Verdes (C505). 
*Dirección de Entrada de Entrada (GPS): 1101 Bates Street, Houston, Texas 77030

Contáctenos: women@texasheart.org / 832-355-9591
About WomenHeart
The Texas Heart Institute is proud to be one of six founding members of WomenHeart National Hospital Alliance. As the leading voice for the over 43 million American women living with or at risk of heart disease, WomenHeart: The National Coalition for Women with Heart Disease is the only national patient-centered organization dedicated to promoting women's heart health through education, patient support and advocacy. 
The National Hospital Alliance is comprised of hospitals committed to advancing women's heart health. Members of the alliance have access to educational materials and programs developed by the nation's medical leaders in women's heart health, and access to the training and technical assistance required to establish and maintain a post-discharge support group for women heart patients.