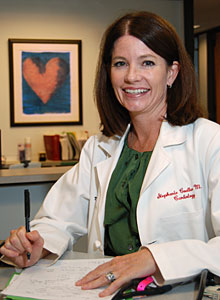 The Texas Heart Institute's Center for Women's Heart & Vascular Health publishes a newsletter by Dr. Stephanie Coulter that addresses current topics related to heart disease in women and aims to separate fact from fiction. Each issue of the e-newsletter contains valuable information you can use to prevent, understand and treat heart disease.
Please subscribe using the quick access form to the left to get the news delivered right to your email. Do it for yourself. Do it for your family. Do it for your current and future quality of life.


Stephanie Coulter, MD
-----
Issue Index
Do you have a topic that you would like to learn more about from Dr. Stephanie? Send us an email at women@texasheart.org and your question may be the next Straight Talk topic!
We are saving hearts and trees. The
Women's Heart Health E-News
is sent via e-mail and posted online. Sign up using the form on this page.

Special thanks to Dr. Karla Campos and Keri Kimler Sprung for their assistance in writing Straight Talk.