Mission Statement
U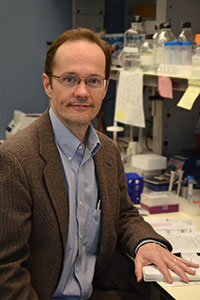 nder the direction of physician-scientist Dr. James F. Martin, the Cardiomyocyte Renewal Laboratory (CRL) is focused on understanding how specialized signaling pathways are connected to adult tissue development and regeneration.
Major areas of research include atrial fibrillation (genetic basis), heart development (and associated congenital heart defects), and aortic valve disease (calcification process).

CRL is investigating genetic pathways (Hippo, Wnt, and Bmp) that have not only been linked to severe and/or widespread heart problems such as atrial fibrillation and pulmonary arterial hypertension, but that also are associated with congenital heart defects and the calcification process that leads to aortic valve disease. 
Dr. Martin's goal is to obtain an in-depth understanding of these pathways in order to develop ways to regenerate heart muscle and prevent disorders such as atrial fibrillation and calcified aortic valves. Ultimately, these studies are designed to identify therapeutic options to promote normal tissue development and its regenerative capabilities.

Studies
Study areas in developmental pathways and adult tissue regeneration include the following:
Heart development. Heart growth is a developmental process that is intricate and highly regulated. CRL has uncovered the involvement of several pathways (Nodal, Pitx2c) influencing discrete steps in heart formation (outflow and inflow tract development, cardiac septation and ventricular growth). Pitx2c is associated with human diseases (Rieger Syndrome I, atrial fibrillation). In addition, recent CRL discoveries indicate that there are inhibitory pathways, such as the Hippo pathway, that control heart size by regulating cardiomyocyte proliferation and may have a role in cardiomyocyte renewal. CRL's studies are providing mechanistic insight into these unique pathways in heart development and are focused on identifying new avenues for therapeutic intervention to promote cardiac regeneration.  
  

Vascular and epithelial tissue development. Bone morphogenetic protein (BMP) signaling has been implicated in human inherited disorders of blood vessel (vascular tissue) and tissues that line the structures of the body (epithelial tissue)
such as juvenile polyposis and pulmonary artery hypertension. CRL is studying BMP signaling during vertebrate development and their research has provided insight into BMP function in congenital heart malformations, with the long-term
goal of uncovering therapeutic avenues for human patients. 
  

Aortic valve disease. Aortic valve disease has become a major medical problem that continues to increase as the population ages. However, treatment options are currently very limited. The CRL research program is investigating the mechanisms underlying the valve disease that begins with narrowing of the aortic valve opening or "stenosis" due to deposition of calcium. This "calcification" process limits blood flow through the heart and can lead to valve hardening. CRL is focusing on the roles of the known regulators of calcification, the BMPs, in heart valve calcification. Dr. Martin's group was the first to provide genetic evidence that Bmp2 is essential for atrioventricular valve development. CRL's recent discoveries indicate BMP signaling is involved in maintaining healthy valve structure and function (termed "homeostasis") by regulating poorly understood genes (Smad8 and microRNA 17-92). CRL's goal is to determine how BMPs regulate development of valve calcification. CRL's studies are providing novel insights into the detailed molecular mechanisms behind BMP function and how different proteins in this pathway interact to either promote or block aortic valve calcification.    
Contact Information and Location
Cardomyocyte Renewal Laboratory 
James F. Martin, MD, PhD — Director
Texas Heart Institute
Houston, Texas 77030
713-798-5931 (office) 
E-mail: jfmartin@bcm.org 
Dr. Martin is also appointed as
Vivian L. Smith Professor 
Baylor College of Medicine
Houston, Texas