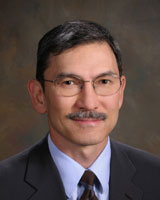 ABOUT THE CO-DIRECTOR: 
 
Dr. R. David Fish, a highly respected interventional cardiologist and leader at THI, is co-director of the Center for Heart Valve Disease. Dr. Fish also is director of Interventional Cardiology Research and Education at THI, with special interests in interventional cardiology, coronary and peripheral vascular stents, cardiac electrophysiology, and pacemakers.
Mission
For many years valvular heart disease (VHD) has been relegated to the back burner of cardiac diseases while heart attacks, heart failure and arrhythmia held center stage. However, in the past decade, interest in VHD has increased several fold, spurred by a rising incidence of the diseases fueled by an aging US population (VHD  increases with age) and by exciting new therapies for VHD. The Texas Heart Institute is strategically positioned to become one of, and perhaps the most prominent center for the treatment of VHD in the country.
The Center for Heart Valve Disease focuses on all aspects of valvular heart disease, including improved replacement procedures with less invasive technology and the use of adult stem cell therapy.  
Understanding Heart Valve Disease
Valvular heart disease is often seen as an affliction of the elderly and experts anticipate that as the general population ages, including millions of Baby Boomers, and people are living longer, the prevalence and costs of treating these afflictions will significantly rise. The disease, however, can afflict people at any age, and is sometimes congenital.
In addition, researchers worry that the disease often goes undiagnosed and that incidence rates might even be higher than reported. A study recently presented to the American Heart Association looked at patients in New York State and found that the incidences of hospitalization and treatment for heart valve disease have "progressively and constantly risen since the early 1980s," increasing at a rate of almost 10% per year. 
VHD is a group of mechanical diseases that impose an overload on the heart that eventually destroys it. These mechanical problems have only a mechanical solution—correction of the lesion by valve repair or replacement.
Such correction has traditionally occurred in the operating room (OR), but new percutaneous (through the skin without surgery) approaches make correction feasible in the catheterization laboratory or in a hybrid OR for some patients. Percutaneous therapy has terrific appeal to patients who can benefit from it without the need for surgery. However, surgery is a proven commodity that produces extraordinary success. Weighing the best therapy for each patient will be a challenge for decades to come.
See the related topics on this website in the Heart Information Center:
Remarkably little is known about why the patient with VHD gets into trouble. What is it about the overload that causes the heart to fail?  Such knowledge could lead to better timing of intervention before any adverse affects develop and could potentially lead to new therapeutic targets.
Patient Story

TAVI gave Nancy renewed health with minimal surgery     
Nancy Napoli suffered through serious heart disease since she was a teenager after radiation treatments for lymphoma scarred her heart. A  heart valve replacement at Texas Heart Institute via catheter, called Transcatheter Aortic Valve Implantation (TAVI), without the need for open-heart surgery, has made her healthy again. Watch her video.

Contact Information and Location
The Center is located on the 5th floor of the Texas Heart Institute at CHI St. Luke's Health - Baylor St. Luke's Medical Center at the Texas Medical Center — the Denton A. Cooley Building. Offices are in the Library and Learning Resource Center suite. Click here for detailed directions including maps.

Street Address
6770 Bertner
Room C520
Houston, TX  77030
Mailing Address
MC 3-273
PO Box 20345
Houston, TX  77225-0345